Dressage is a beautiful equestrian discipline that showcases the harmony and partnership between horse and rider. It's often called "horse ballet" due to the precision and grace of the movements. In this beginner's guide, we'll take you through the basics of dressage, from equipment to basic movements.
Dressage Equipment:
To get started with dressage, you'll need some essential equipment, including:
Dressage Saddle:
A dressage saddle is designed to help the rider sit deep in the saddle and maintain good posture while riding.
Bridle:
A bridle is used to control the horse while riding.
Dressage Whip:
A whip is used to give subtle cues to the horse and can help the rider maintain the rhythm and impulsion of the horse's gaits.
Dressage Boots:
These are tall boots that provide extra support to the rider's leg while riding.
Optional Equipment:
Depending on your level of experience and the specific discipline you're practicing, you may also need additional equipment, such as a dressage pad or a special bit.
Basic Movements:
Once you have your equipment, it's time to start learning some basic dressage movements. Here are a few to get you started:
Walk:
This is the slowest gait of the horse, with four beats. In dressage, the walk is often used as a warm-up and a way to establish a connection between horse and rider.
Trot:
The trot is a two-beat gait where the horse's diagonal pairs of legs move together. In dressage, the trot is often used to show the horse's impulsion and balance.
Canter:
The canter is a three-beat gait where the horse's inside hind leg steps forward first. In dressage, the canter is often used to showcase the horse's suppleness and ability to maintain a rhythm.
Halt:
The halt is a complete stop where the horse stands still with all four legs. In dressage, the halt is often used as a way to show the horse's obedience and willingness to listen to the rider's cues.
Circles:
Circles are a basic dressage movement that helps to improve the horse's balance and flexibility. The size of the circle can vary, depending on the level of the horse and rider.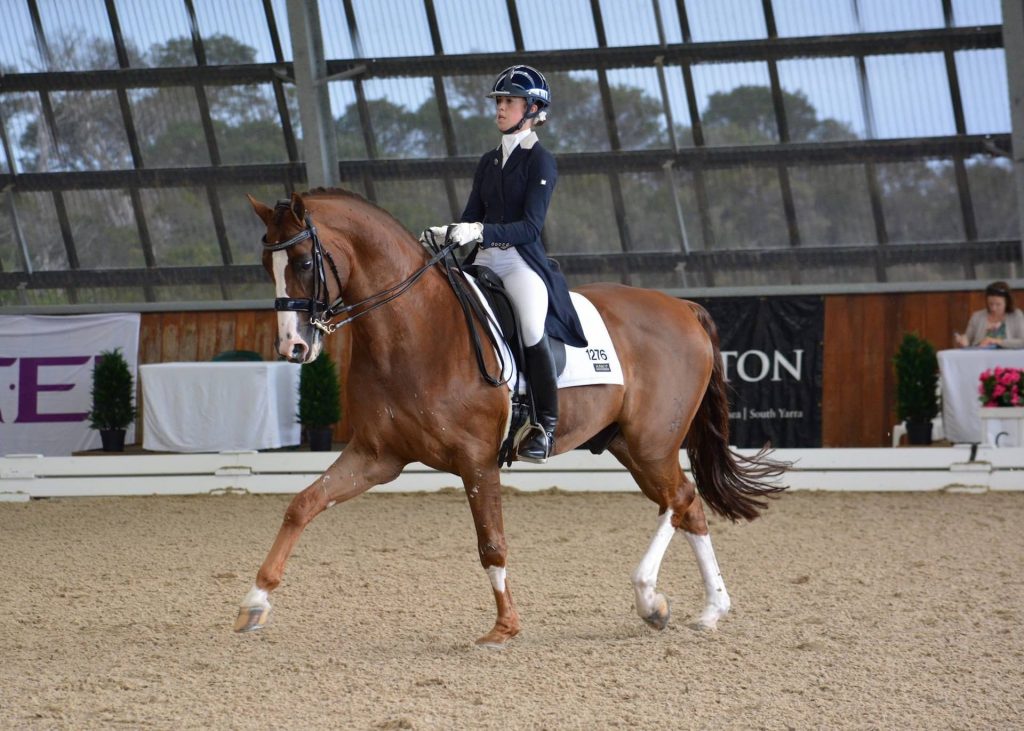 Tips for Dressage Success:
Dressage can be a challenging discipline to master, but with practice and dedication, anyone can improve their skills. Here are some tips to help you succeed:
Practice regularly:
Consistency is key when it comes to dressage. Practice regularly to improve your skills and develop a strong partnership with your horse.
Pay attention to detail:
Dressage is all about precision and accuracy. Pay attention to the small details, such as your position and your horse's movements, to improve your overall performance.
Take lessons from a qualified instructor:
A qualified instructor can provide valuable feedback and help you improve your technique.
Develop a strong bond with your horse:
Dressage is all about the partnership between horse and rider. Spend time bonding with your horse to develop a strong connection and trust.
Stay patient and positive:
Dressage is a journey, and it takes time to master. Stay patient and positive, and celebrate your successes, no matter how small.
Amateur Competitive Dressage
Dressage competitions are held at all levels, from beginner to advanced, and are a great way to showcase your skills and compete against other riders. Amateur competitive dressage is open to riders who do not earn their living from riding or training horses, and it is an excellent way to get started with dressage competition.
In amateur competitive dressage, riders are judged on their ability to perform a series of dressage movements accurately and with style. The judges look for a horse and rider partnership that is harmonious, balanced, and fluid in their movements. The riders are marked on various aspects, including accuracy, rhythm, suppleness, impulsion, and rider position and effectiveness.
Competitive dressage is a great way to develop your skills, build confidence, and improve your riding technique. It's also a great way to meet like-minded horse enthusiasts and make new friends in the equestrian community.
To compete in dressage, you will need to join a recognized dressage organization and follow their rules and regulations. You will also need to choose appropriate dressage attire and equipment, including a dressage saddle, bridle, dressage boots, and a dressage whip. It's important to practice regularly, take lessons from a qualified instructor, and attend dressage clinics and shows to improve your skills and gain experience.
Competitive dressage is a challenging but rewarding discipline that can help you develop a strong bond with your horse and achieve your equestrian goals. Whether you're just starting out or have been riding for years, there's always something new to learn and improve upon in the world of dressage.
Final Thoughts
Dressage is a beautiful and rewarding equestrian discipline that can be enjoyed by riders of all levels. With the right equipment, some basic movements, and a focus on practice and patience, you can improve your dressage skills and develop a strong partnership with your horse. Remember to enjoy the journey, and most importantly, have fun!
Other Articles