Vaulting is an exciting and unique equestrian sport that combines gymnastics and dance on horseback. It's a great way to improve your balance, coordination, and confidence while having fun with your horse. In this article, we'll take you through the basics of vaulting, from equipment to basic moves.
Vaulting Equipment:
To get started with vaulting, you'll need some essential equipment, including:
Vaulting Surcingle: This is a special padded belt that goes around the horse's girth area, providing a secure anchor point for the vaulter to hold onto.
Vaulting Pad: A pad is placed on top of the surcingle to provide additional padding for the vaulter.
Bridle: A standard bridle is used to control the horse while vaulting.
Helmet: Safety is paramount in any equestrian sport, and vaulting is no exception. A properly fitting helmet is a must.
Optional Equipment: Depending on your level of experience and the specific discipline you're practicing, you may also need additional equipment, such as special vaulting shoes, gloves, or a safety belt.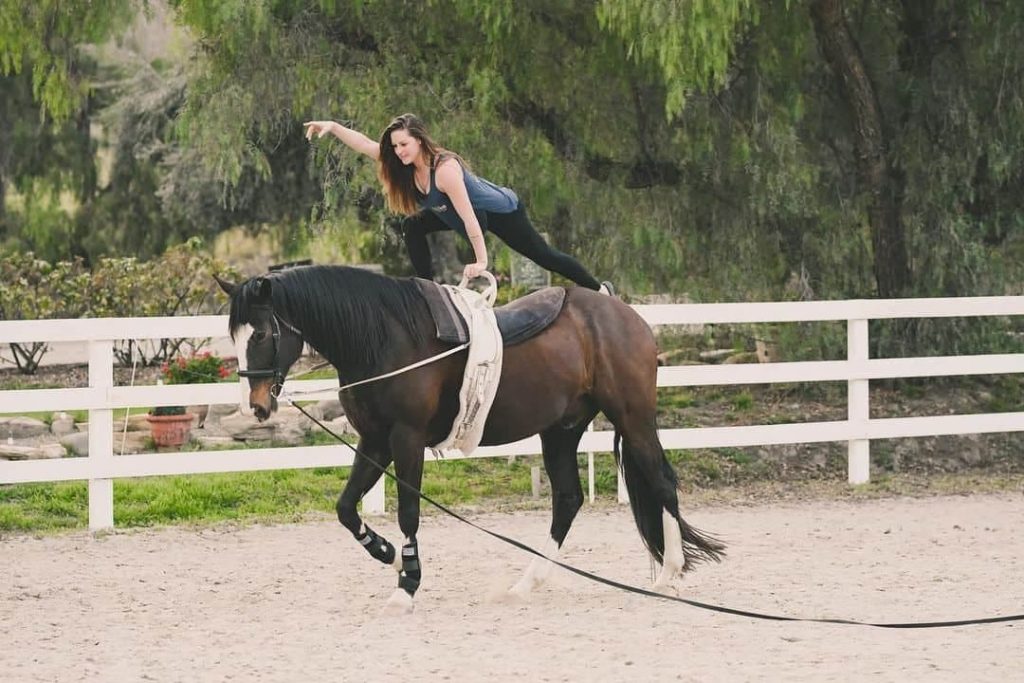 Basic Moves in Vaulting:
Once you have your equipment, it's time to start learning some basic vaulting moves. Here are a few to get you started:
Mounting: To start, the horse is led into a circle, and the vaulter mounts the horse from the ground by grabbing onto the surcingle and hoisting themselves up. Once in position, the vaulter must find their balance and hold on to the surcingle.
Stand: This is one of the basic moves in vaulting, where the vaulter stands up on the horse's back while holding onto the surcingle.
Seat: Another basic move is the seat, where the vaulter sits on the horse's back while holding onto the surcingle. This is a great move to start with to get comfortable with the horse's movements.
Flag: The flag is a move where the vaulter stretches one leg out to the side while holding onto the surcingle. This move requires good balance and flexibility.
Mill: The mill is a move where the vaulter swings their legs around the horse's neck while holding onto the surcingle. This move requires good upper body strength and coordination.
Safety Tips:
Vaulting can be a lot of fun, but it's important to practice it safely. Here are some safety tips to keep in mind:
Always wear a helmet and proper riding attire.
Make sure your equipment is in good condition and fits properly.
Start with basic moves and progress at your own pace.
Always have a spotter or experienced coach present to guide you and your horse.
Choose a calm and experienced horse to work with.
Stay aware of your surroundings and always be mindful of the horse's behavior.
Competitive Vaulting
In competition vaulting, vaulters perform a series of choreographed moves on a cantering horse. The horse is controlled by a lunger, who guides the horse on a circle while the vaulter performs various moves on its back. Competition vaulting is divided into different levels and classes, based on the skill level of the vaulter and the horse's ability. Vaulters are judged on a variety of factors, including the difficulty and execution of their moves, their overall performance, and their relationship with the horse. Competitions can be held at local, national, and international levels, and are a great way for vaulters to showcase their skills and compete against other talented riders.
Vaulting is a unique and exciting equestrian sport that anyone can try, regardless of age or experience. With the right equipment, some basic moves, and a focus on safety, you can enjoy this fun and rewarding activity with your horse. Remember to take your time and practice at your own pace, and most importantly, have fun!
Other Articles